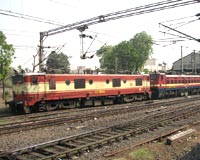 An erstwhile summer retreat of the British, the hill station of Shimla is blessed with all the bountiful aspects of nature. Cuddled amidst the jagged terrains of the Himalayan mountainous ranges, Shimla in Himachal Pradesh has a magical appeal with its flower carpeted valleys, magnificent mountains, winding streets moss-covered rocks and salubrious mountain air. The unsurpassable beauty of its landscape and the bygone charm captured by its monuments make the place an ideal holiday getaway for tourists. Get an idea of how to reach Simla by exploring the various communication options available for reaching/traveling to Shimla in Himachal Pradesh.
By Air
The nearest airport is the recently constructed airport at "Jubber Bhatti", located 28 km from the main city center. Regular flights of Indian Airlines, Archan and Jagsons connect it to other places like Delhi, Chandigarh, Kullu and Dharamshala. Tourists traveling to Shimla by air need to disembark at the Jubber Bhatti airport and board a bus/ taxi to reach Shimla.
By Rail
The most convenient railhead is located at Kalka, 96 km from Shimla. Kalka is connected to various important places by broad gauge railways. However, from Kalka a narrow gauge toy train chugs uphill towards Shimla. This miniature train takes around 6 hr to reach Shimla from Kalka and offers some breathtaking views during the journey.
By Road
Shimla is easily accessible from all the other regions in and around Himachal Pradesh through a good network of motorable roads. It is well-connected by the National Highway No22 to places like Delhi, Chandigarh and Mandi. Different types of land transport, from public buses to deluxe cars are available for tourists traveling to Shimla.